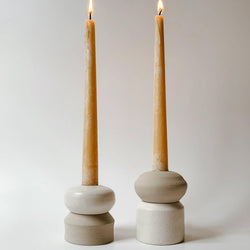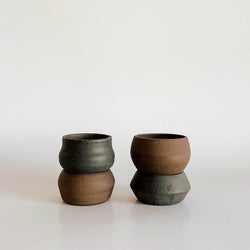 Beautifully handcrafted two-in-one taper and tea light candle holders.
Flip your candle. It's a mood.
Sold as a duo, you can have it both ways with these sculpturally designed candle holders that fulfill all your ambience needs. Whether you are burning a taper, a tea light or simply enjoying the shapes and textures of hand made, one of a kind pieces on your bookshelf or tabletop, these candle holders have it all.
Light a candle or two and celebrate every day. Pairs perfectly with our beeswax taper candles, found here and our beeswax tea lights, found here.
Approximate size 7.5H x 6W / 6H x 6W - size of taper candle holders can vary, as can the size of taper candles. 
*Each piece is one-of-a-kind and may have some clay/glaze variations such as beauty marks, little dimples, crackling glaze and warping which is part of the artisanal nature of the process and part of the outcome. Due to differences in screen settings, colours may differ slightly between photos and physical product.
Made with mindfulness by AND Ceramics from Lumsden, Saskatchewan.
This item is not available to ship to rural routes or P.O. addresses. See our Shipping Policy for more details.