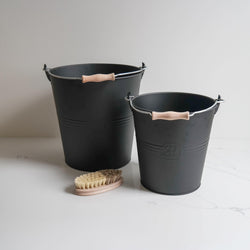 This eye-catching pair of Redecker wash buckets is practical for many uses around the home: storing firewood, kindling or blankets, collecting produce and flowers from the garden, yard work, washing up, etc. These will beautifully distress over time, creating a truly timeless look that can be enjoyed over many years. Untreated beechwood handles allow for a comfortable grip whilst you carry out chores.
Set of 2: The largest bucket holds 10 litres, while the smaller bucket will hold 5 litres.
* This item is not eligible for free shipping.