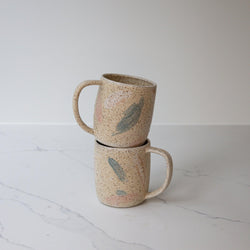 Channel your inner artist while sipping coffee or tea from this sweet speckled mug
Measures approximately 3.5" wide x 4" high
Handmade in small batches in Tofino, Vancouver Island by Fernly ceramics.
 **This product is handmade and as a result, each will be unique. For us, this is the appeal of handmade wares, and we hope that you feel the same. Slight differences/imperfections in shape, size, and colour are to be expected, and celebrated.
This item is not available to ship to rural routes or P.O. addresses. See our Shipping Policy for more details.