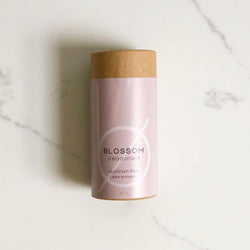 Bottle None's deodorant contains an antibacterial and anti-fungal formula that eliminates odour causing bacteria . Zinc, baking soda, and therapeutic grade essential oils neutralize even the strongest of odours. 
vegan
aluminum free
made in Kelowna, BC
3 scents to choose from:
CITRUS is subtle and super fresh.  Like a citrus spritzer for your underarms.
BLOSSOM is soft and floral. Like an evening stroll through a botanical garden. This formula is baking soda free, so it's great for sensitive skin.
EARTH is like walking through a steam room with Tea tree, Rosemary, Cedar wood, Sage, and Lime. Bentonite clay is used for extra strength detox benefits.