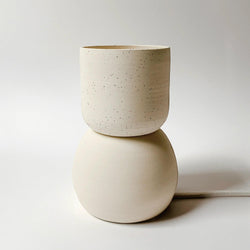 Welcome the cooler, darker days with this simple and unique handcrafted nightlight, perfect for your bedside table. These one-of-a-kind stoneware lamps are a subtle and lovely little light to set the mood. The soft light it emits is akin to the light of a candle. Each handmade light is unique and will have some variations in colour and shape.
Measures approximately 14.5cm x 9cm
6W soft white clear incandescent light bulb included with 4m flexible white fabric cord with on/off switch.
*Each piece is unique and will have some clay/glaze variations such as beauty marks, little dimples, crackling glaze and warping which is part of the artisanal nature of the process and part of the outcome. Due to differences in screen settings, colours may differ between photos and physical product.
Made with mindfulness by AND Ceramics from Lumsden, Saskatchewan.
Due to the fragility of these nightlights and how they are delivered to us, they will arrive wrapped in bubble wrap.
This item is not available to ship to rural routes or P.O. addresses. See our Shipping Policy for more details.