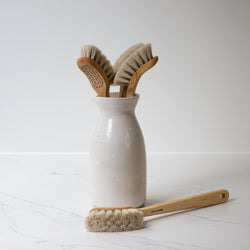 This wooden dish brush by Iris Hantverk seamlessly combines tough cleaning action with beautiful, eco-conscious design. Bristles made from horsehair make an excellent tool for scrubbing. The curve of this brush makes it ideal for washing rounded glasses which may otherwise be difficult to reach. 

 Measures approx. 10.75" long x 1.25" wide x 2.25" high
The best way to clean your dish brush is to boil water, pour in a few drops of mild detergent and dip your dish brush and stir. If it is very oily, you may need to repeat it a few times. Tap out the water and let it dry bristles down to wick the water away, or hang to dry. 
Handcrafted in Sweden by visually impaired artisans.