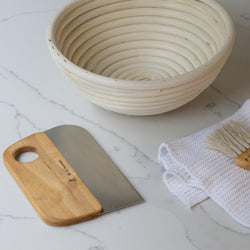 This Dough Scraper offers a simple and efficient solution for baking prep. Perfect for scooping, shaping and dividing dough, it can also be used to scrape dough off the work surface. Make baking and clean-up tasks easier with this indispensable tool. Made from birchwood and stainless steel.
After use, wash the scraper with detergent and lukewarm water and wipe to dry. Do not leave soaking in water.
Measures approx 5.75" long x 3.75" wide
Made in Sweden.