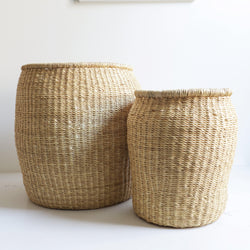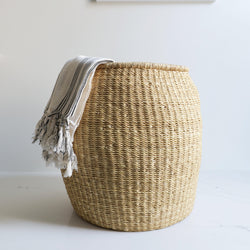 These elephant grass baskets have been handwoven by the skilled artisans in the Bolgatanga region of Ghana from thick, resilient elephant grass. Use around the home as storage, hampers, or beautiful waste basket.
Available in 2 sizes: 
Large measures roughly 13" wide x 15" high
Small measures roughly 9" wide x 11.5" high
**This product is handmade and as a result, each will be unique. For us, this is the appeal of handmade wares, and we hope that you feel the same. Slight differences/imperfections in shape, size, and colour are to be expected, and celebrated.
Baskets may become misshapen or flattened in transit. Easily shape your basket by wetting the straw and shaping the basket with your hands, before allowing it to dry. Do not soak.
We are proud to work with suppliers committed to fair trade, equitable and sustainable partnerships, and the health of the planet alongside people. 
Please note that due to its size, the large basket is not eligible for free shipping.