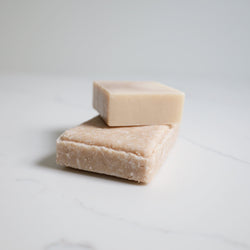 The Floral shampoo and conditioner bars are best for normal-dry hair. Lavender oil conditions hair to minimize breakage and soothe an itchy scalp. Rosemary oil stimulates the roots, improves hair growth, and brings shine and lustre back to hair. Ylang ylang oil acts as a natural conditioner by stimulating the sebaceous glands and is said to prevent split ends and damage. The antioxidants in cocoa powder work to prevent stratification resulting in less brittle split ends.
Shampoo bar is 3.2 oz + conditioner bar is 1.4 oz, as the conditioner is very long-lasting.
Packaging for these bars is made of post consumer recycled paper embedded with seeds. Once planted, the box will biodegrade and grow into a beautiful combination of wildflowers. Help support healthy bee populations while you cut down on plastic waste!
M

ade with 100% natural, nature-identical and naturally derived ingredients from plant and mineral sources

Vegan

pH balanced

Palm oil free
Made in Victoria, BC
Shampoo Ingredients: Sodium Cocoyl Isethionate, Theobroma cacao (Cocoa Butter), Decyl Glucoside, Stearic Acid, Cetyl Alcohol, Maranta arudinacea (Arrowroot Powder), Lavandula angustifolia (Lavender Oil), Rosmarinus officinalis (Rosemary Oil), Cocos nucifera (Coconut Oil), DL Panthenol, Hydrolyzed Quinoa, Linalool, Mentha arvensis (Peppermint Oil), Sodium Chloride, Tocopherol (Vitamin E), Zinc Oxide, Cananga odorata (Ylang Ylang Oil), Theobroma cacao (Cocoa Powder), Limonene
2.12 oz, measures approx. 5.5 x 5.5 x 2 cm
Conditioner Ingredients: Behentrimonium methosulfate (and) Cetearyl Alcohol, Theobroma cacao (Cocoa Butter), Cetyl Alcohol, Olea europaea (Olive Oil), Cocos nucifera (Coconut Oil), Lavendula angustifolia (Lavender Oil), Hydrolyzed Quinoa, Rosmarinus officinalis (Rosemary Oil), Maranta arudinacea (Arrowroot Powder), DL Panthenol, Tocopherol (Vitamin E), Linalool, Mentha arvensis (Peppermint Oil), Cananga odorata (Ylang Ylang Oil), Theobroma cacao (Cocoa Powder), Limonene
1.4 oz; measures approx. 4.8 x 4.8. 1.8 cm