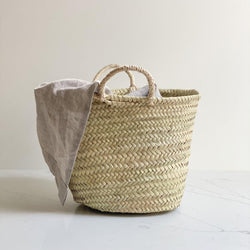 These market baskets are handwoven from sustainable palm leaves, with natural sisal cord handles. Perfect for markets, foraging, and carrying your daily essentials and groceries. Also works as a decorative piece when used to hold textiles, toys, or anything requiring storage. Designed to age beautifully with time and use.
Ethically handmade in Morocco, using locally sourced material and honoring techniques that have been trusted for centuries. Supporting these incredible makers means that their traditional practices can continue to flourish. 
If your basket arrives misshapen, easily fix this by dampening the palm with either a spray bottle or cloth (do not soak), reshaping by hand, and allowing it to dry slowly and naturally - away from direct heat sources.
Bag measures approximately 40 cm wide x 26 cm high (15.75" x 10.25")

Made from palm leaves + sisal, with leather label
Please note that due to its size, this item is not eligible for free shipping
**This product is handmade and as a result, each will be unique. For us, this is the appeal of handmade wares, and we hope that you feel the same. Slight differences/imperfections in shape, size, and color are to be expected and celebrated.