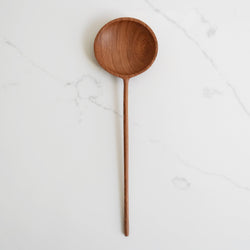 Whether you're serving up a fresh salad, roasted vegetables or a rainy day stew, these elegant serving spoons are a beautiful addition to any table. Created with rustic tools, then smoothed to perfection, these spoons are treated with a natural beeswax polish to encourage non-toxic sheen and protection. Every custom work is thoughtfully made with sustainably sourced tropical wood, and can be used individually or in pairs.
Measures approx. 26cm long x 7 ½ cm wide x 2cm deep head
Care: Wash by hand in cool water with gentle cleansers, then dry with a towel. In order to maintain the sheen, treat with beeswax or linseed oil from time to time.