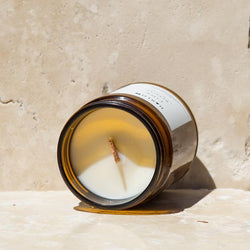 Hand-poured in Vancouver, BC, these Earth conscious essential oil, soy candles are housed in a lovely amber glass jar with a screw top lid, fashioned with a wood wick for aesthetic and a clean burn.
Available in 4 scents:
SAVOR - Escape to a countryside getaway with aromas of white grapefruit to relieve stress and rosemary to stimulate the mind.
MOUNTAIN - Like lighting a candle in the forest. Transport yourself to the wilds of the west coast with aromas of cut wood and crisp trees, complimented by fir and himalayan cedar wood. 
MORNING - Like waking up in a fresh-air spa with aromas of Spanish Lavender, lemon peel and eucalyptus to calm the mind, while gently awakening the senses.
CRISP - Refreshing peppermint and comforting fir tree. The perfect blend for those chilly nights. Cozy yet fresh! 
Approximate burn time is 40 hours - 8 oz jar.
To re-light wood wick, lightly break off charcoal bit and hold flame to fresh wood until it lights.
Let burn until the wax has melted to the edge of the jar before blowing it out. This will help the candle burn straight down and extend the life of your candle.