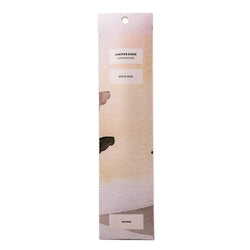 This incense uses nature-inspired scents that honour the west coast. Each pack comes with 20 sticks in recyclable paper packaging. Incense holders can be found here.
Made without synthetic fragrance oils
No petrochemicals or charcoal, for a clean burn

Scents developed using sustainably harvested plants 
Available Scents:
White Sage - Earth, sunlight on desert rock, spicy resin
Sweetgrass - Vanilla, fresh-cut grass, cinnamon bread baking in the oven
Ingredients: Sustainably Harvested Plants, Tree Sap, Wood, and Bamboo Stick.
Juniper Ridge donates 10% of their annual profits to a selection of Western Wilderness Defence organizations
Made in the USA