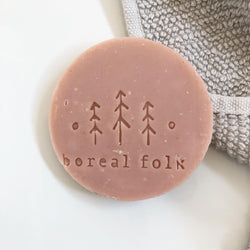 This bar of soap is ideal for dry, sensitive skin types. Cleansing and moisturizing for both skin & hair, it creates a thick frothy lather. It is lightly scented with notes of geranium, juniper berries and creamy wintergreen. 
Key Ingredients
Juniper: Contains anti-inflammatory virtues and is rich in antioxidants. Strengthens and conditions hair.
Birch oil: It is analgesic, astringent and a tonic to the skin and body. For ages, birch oil has been used as a skin toner and skin softener. 

Grape seed oil: Moisturizing oil containing an antioxidant named pycnogenol which contains youth-preserving effects. It also contains vitamin C which aids to brighten the skin's complexion.
Ingredients: Olea europaea (olive oil), Cocos nucifera (coconut oil), Theobroma cacao (cocoa butter), Juniperus communis (wildcrafted juniper hydrosol), distilled water, sodium hydroxide, Juniperus communis (juniper berry oil), Betula lenta (birch oil), Pelargonium graveolens (geranium oil), pink clay.
4 oz vegan cold process soap
Usage: Wet hair as well as the shampoo bar. Scrub the bar in circular motions onto the hair and scalp a few times.  A thick lather will begin to foam, work in the lather with the tips of your fingers. Rinse hair normally. A little goes a long way with this shampoo bar. 

Some people like to rinse their hair afterwards to re-balance the pH of their hair using an apple cider vinegar hair rinse. To make the rinse- fill half a spray bottle with raw, unfiltered apple cider vinegar and half water. Spray 10 times after shampooing and rinse. 
*Keep soap in a dry environment between uses.