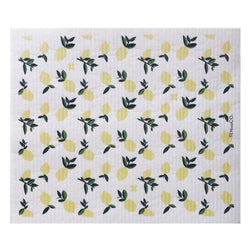 Introducing large & extra large Sponge Cloths, for cleaning up those big messes or acting as a small dish drying mat.
Great for wiping down stainless steel, car cleaning, exterior cleaning or soaking up extra messy spills. This mat is also perfect under a cutting board for a slip resistant cutting surface. 
The cloth is naturally anti-bacterial due to its quick drying ability which means no 'dish cloth' smell! 
Large measures 11.9" x 10.2"
Extra Large measures 15.75" x 11.75"
How to care for your cloths:

sanitize in washing machine (air dry) or in the top rack of dishwasher (up to 90 degrees Celsius)

rinse and allow to dry between uses
lifespan is dependant upon usage - typically last 6-12 months, or 200 wash cycles
Designed in Canada, Made in Sweden.
* Note: Sponge cloths may be folded in your parcel to accommodate their size. This will not affect usability. Simply wet the cloth, and allow to dry in the shape of your preference.