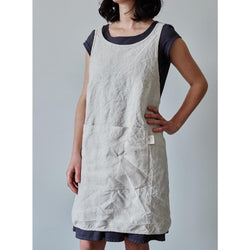 This beautiful linen apron is handmade with care in Montréal. Inspired by Japanese design, it features a cross-back pattern that allows maximum freedom of movement. Coconut buttons in the back can be adjusted to three different sizes to ensure a comfortable fit. It will quickly become one of your favourite essentials in the kitchen or workshop.

100% linen fibre
Adjustable in the back
Designed to fit all body types

Large front pocket to hold utensils or a towel
Sustainably crafted coconut buttons secure the back

Linen production contributes to sustainable agriculture since it requires few fertilizers and pesticides. Its natural fibres are resistant to light and water and keep you fresh in the summer while acting as insulation in the winter.

Antibacterial and hypoallergenic, linen is ideal for those with sensitive skin.