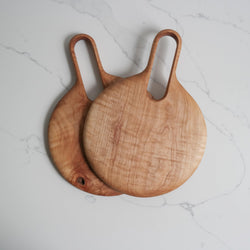 Thoughtfully handcrafted with Canadian hardwood in Toronto, Ontario, these serving boards are a stunning conversation piece when used for serving charcuterie, appetizers, or bread. Can use one side as a cutting board, and keep the other for food presentation. Comes with a unique 5" handle - perfect for hanging on display when not in use. Designed to be cherished for many years.
Measures roughly 10" wide by 13.5" long
* As this is a natural handmade wood product, please allow for slight variations in appearance.
Care: Gently hand wash with regular dish soap allowing pieces to fully dry. The texture or colour of the piece may change with use which is a normal part of aging for wooden cookware (and a huge part of its charm!). When needed, fully dry pieces can be treated with a food safe mineral oil or beeswax. To get your piece back to its original finish, a piece of high grit wet/dry sandpaper can be used to lightly sand the surface and a finish reapplied.