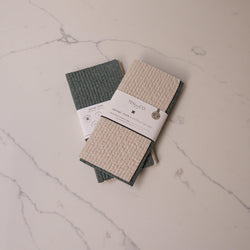 The sponge cloth has been a staple in Swedish kitchens for over 60 years and can absorb 15x its own weight in liquid (up to 3/4 of a cup). 

Great for cleaning dog paws, granite, stainless steel, laminate and glass top stoves
The cellulose (wood pulp) -cotton composition is 100% biodegradable and can be thrown away with compostable waste


Each cloth can replace up to 17 rolls of paper towel, reducing the plastic packaging and overall waste in landfills

Each cloth should last 6-12 months, or 200 wash cycles

Antibacterial due to its quick-drying nature

Wash in washing machine or top rack of dishwasher. Hang or dry flat.
Each pack contains 2 folded Sponge Cloths.
Measures 18 cm by 18.5 cm (7.1" x 7.25")
Designed in Canada, made in Sweden