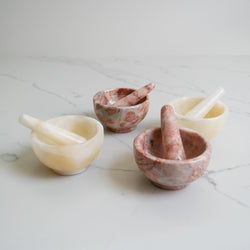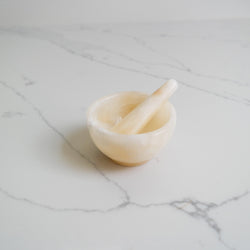 This hand carved miniature mortar and pestle set is ideal for grinding spices & herbs, or for crushing medications. Available in pink marble or creamy white onyx.
The family that crafts these sets has been working with stone for over three generations. Each is handmade with rustic tools, and then polished until shiny. This particular stone is from Puebla, Mexico. 
Due to the nature of this organic material, every piece is unique. Variations in texture, colour and markings are common and should be celebrated.

Measures approximately 7 cm wide x 4 cm tall, with 7 cm long pestle
Hand wash only.