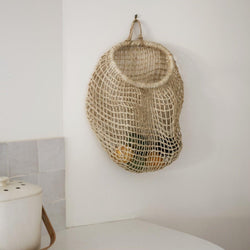 Celebrate traditional artistry in your space with this handmade tree bark basket. Each piece is created by master artisans, using pre-Hispanic processes that have been passed down for generations. Reminiscent of a delicate swallow's nest, these baskets are organic, portable, biodegradable, and ideal for storage or simply hung as an art piece.
Easily hung on a hook or peg rail to maximize storage space.
Measures approximately 25cm wide x 30cm high (9.8" x 11.8")
Handcrafted in Mexico
**This product is handmade and as a result, each will be unique. For us, this is the appeal of handmade wares, and we hope that you feel the same. Slight differences/imperfections in shape, size, and colour are to be expected, and celebrated.