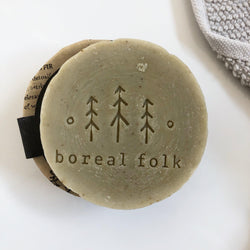 The smell of fresh flowering mint tops will fill your shower and spirit with an awakened feeling of being hugged by those hot summer days. Spring nettles will deeply nourish your hair as the mint oil revives and uplifts the senses.  
Key Ingredients
Wild nettle: Nettles are rich in silica and sulfur promoting shinier and healthier hair.  Its silica content helps strengthen weak, brittle, damaged hair, giving it vitality and shine with regular use.
Coconut oil: Creates a beautiful rich lather that moisturizes and cleanses the hair.
Mint oil: This essential oil is a great hair toner. The use of this oil stimulate hair follicles as well as the scalp. Its uplifting aroma is energizing and refreshing. 
Ingredients: Cocos nucifera (coconut oil), olea europaea (olive oil), ricinus communis (castor seed oil), theobroma cacao (cacao butter), distilled water, sodium hydroxide, essential oil blend, urtica diotica (wild harvested nettle extract).
4oz vegan cold processed soap
Usage: Wet hair as well as the shampoo bar. Scrub the bar in circular motions onto the hair and scalp a few times.  A thick lather will begin to foam, work in the lather with the tips of your fingers. Rinse hair normally. A little goes a long way with this shampoo bar. 

* Keep shampoo bar in a dry environment between uses.