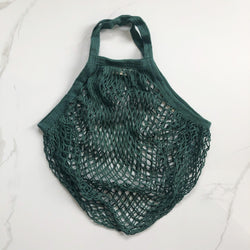 String market bags have been used in Europe for over a century, and are the perfect companion for Farmer's Markets, the beach, and everything in between. Each lightweight bag will hold up to 40 kg of goodies - generously allowing for all your fruits + veg, packed lunches, and beach gear. Easily rolls up small for storage and transport when not in use. 
100% Organic Cotton
Care: Wash in cold water and hang to dry.
Our organic cotton bags are certified under the Global Organic Textile Standard (GOTS), which means no chemical pesticides or fertilisers are used in the production of the of the fabric and farmers must work under safe conditions with an agreed minimum wage.