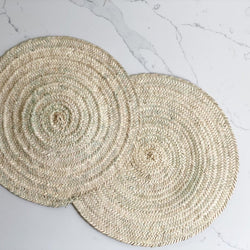 The handwoven palm leaf placemat is made completely of natural materials, and effortlessly infuses your dining experience with bohemian appeal. Simple, yet effective, they are perfect for displaying tableware and elevating mealtime rituals. 
Ethically handmade in Morocco with locally sourced material, honouring techniques that have been trusted for centuries. Sold individually.
If your placemat arrives misshapen, easily fix this by dampening the palm with either a spray bottle or cloth (do not soak), reshaping by hand and allowing to dry slowly and naturally - away from direct heat sources.
Measures approximately 41 cm (16") across
**This product is handmade and as a result, each will be unique. For us, this is the appeal of handmade wares, and we hope that you feel the same. Slight differences/imperfections in shape, size, and colour are to be expected, and celebrated.