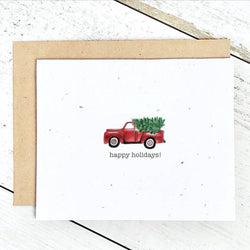 Make a lasting impression with this plantable, eco-friendly Christmas card! This is a hand-drawn design, generously seeded and made with 100% post-consumer materials. It will continue providing beauty as you watch wild flowers grow from what was once a Christmas greeting.
Blank inside.

Comes with a brown recycled paper envelopes and planting instructions on the back of the card. 100% plastic free.

Size is A2 (4.25"x5.5")
Handmade in Irricana, Alberta.
In the wild flower cards, you can expect:
Bird's Eye - Annual
Black Eyed Susan - Perennial
Clarkia - Annual
Catchfly - Annual
Snapdragon - Annual
Sweet Alyssum - Annual