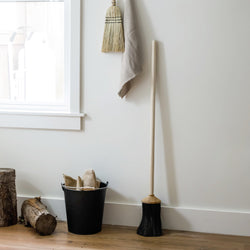 This unique circular broom is suitable for both indoor & outdoor use. The long handle makes it ideal for sweeping up leaves and dirt from the entrance and patio, or cleaning around the fireplace without straining your back. The lengthy, flexible bristles easily slip under cupboards and other hard-to-reach places.
The head is made from oiled birch, while the handle is untreated, resulting in a beautiful pale cream finish. Arenga plant fibre comprises the bristles - a natural, yet durable, vegan source that will withstand years of use. 
Measures approx. 47" long; head is 4.75" in diameter 
Handcrafted in Sweden by visually impaired artisans, using the traditional Nordic brush binding technique that has been honoured for hundreds of years.
* Due to the size, this item is not eligible for free shipping. Not available to ship to PO boxes or rural routes. Please contact us at hello@greenboheme.ca to arrange delivery to these locations.