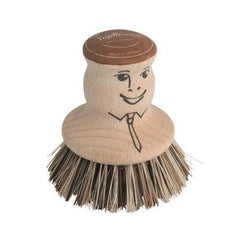 Handcrafted and 100% plastic free!
Don't let the sweet smile fool you! This cute little guy comes dressed in a tie and is all business when it comes to taking care of tough stuck-on food on your pots and pans. The handle is sustainably made from untreated beechwood and the bristles are made from stiff palm leaf fibres, proving that eco-friendly does not equal lightweight cleaning. The natural bristles also mean that you will not be adding micro plastic to the water supply - which is often the case with plastic scrubbers (gross!).
When your buddy has come to the end of his useful life in your kitchen, you can toss him in the compost, as all his parts are completely biodegradable.
Dimensions: 8cm high, brush head is 6cm in diameter. 
Care: Simply air dry and store in a clean, dry place between uses.