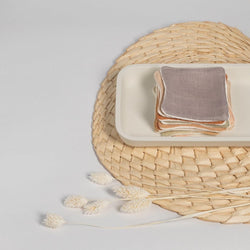 Say goodbye to disposable cotton pads and other single-use makeup remover wipes. These washable pads are infinitely softer on the skin, and kinder to the earth. Handmade in a small studio in Montreal, they are crafted with organic cotton and bamboo; and the stunning colours are created with natural plant dyes. Durable and non-irritating, they are also trusted by moms for baby's sensitive skin. Comes in a set of 5.
3.5" x 3.5" 
naturally dyed with plants
organic and sustainable materials
slow production with low water consumption
Care instructions: Machine wash cold, and air dry or tumble dry at low temperature
Designed and made in Montreal, Canada.
This product is handmade and may have some variations from what is pictured. This is what makes each order beautifully unique.