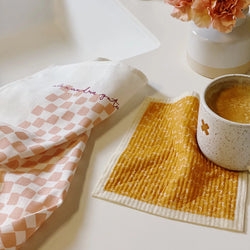 Better together! This set includes one sponge cloth and one matching tea towel.
The Sponge Cloth can absorb 15x its own weight in liquid (up to 3/4 of a cup) and replaces the use of up to 17 rolls of paper towel, reducing overall waste in landfills. 

These eco-friendly sponge cloths will clean all kitchen and bath surfaces without streaking including granite, stainless steel, laminate and glass top stoves. 
The cloth is naturally anti-bacterial due to its quick drying ability which means no 'dish cloth' smell! 
Wash in washing machine or top rack of dishwasher. Hang or dry flat.
17 cm x 20 cm (6.75" x 8")
Ten and Co. Tea Towels are both beautiful and functional.
Great for drying dishes or hands in the kitchen, lining a bread basket or be used as waste free wrapping for a special gift.
50/50 cotton-linen blend, absorbent with convenient hook at the top.
50 cm x 70 cm (19.6" x 27.6") Designed in Canada, Made in Sweden.