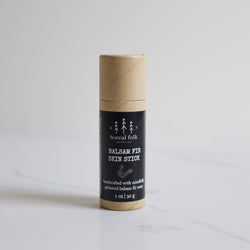 This wild crafted balm smells softly of a forest on a hot day with hints of sweet honey. Fir resin has been chosen for its traditional soothing and anti-inflammatory virtues. Keep this balm on hand to apply onto dry irritated skin or when your skin simply needs some loving moisture. It can also be applied onto burns, bruises, wounds, sore muscles and various other skin conditions to soothe and speed healing.
Key Ingredients:

Balsam Fir resin: Contains antimicrobial, antiseptic virtues. Anti-inflammatory, fir pitch helps accelerates the healing process of the skin. 
Black spruce essential oil: This restorative oil has been used for hundreds of years to calm the mind, body and spirit. Its anti-inflammatory & analgesic virtues have be known to soothe topical ailments as well as muscular discomforts. Black spruce oil is highly aromatic and can help ground your senses.

Grape seed oil: Is a great antioxidant due to its high content of vitamin E. Quickly absorbed into the skin, this oil is rich in linoleic acid, providing great nutrition of fatty acids to skin.  

Ingredients: Vitis vinifera (grapeseed oil), Cera alba (Canadian beeswax), Abies balsamea (wildcrafted balsam fir sap), Picea mariana (wildcrafted black spruce oil), tocopherol (vitamin E). 

1 oz biodegradable push-up tube
Usage: Apply a small amount to skin, gently rub it in. A little of this product goes a long way.