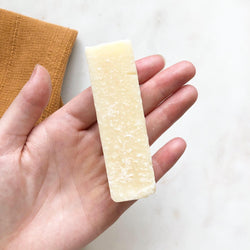 Ordinary stain removers contain chemical detergents, but Buncha Farmers All Natural Stain Remover Bar is real soap. It's made with all-natural, biodegradable ingredients, and enhanced with borax to soften the water and aid the cleaning process. There are no artificial dyes or perfumes - just the fresh, clean scent of natural eucalyptus and the deodorizing power of litsea. You'll never have to worry about discolouring your clothes or fabrics. Best of all? It works!
Tips: Cut or scrape off a little of the bar and throw in with your regular wash, it will energize your laundry load. You can also melt in hot water and just spray or rub on carpet surfaces or car seats to get rid of stains and grime (even leather). Removes mold from surfaces - especially in your fridge. It's always best to use hot water for the strongest stain-removing power! 
Note: If you encounter a very stubborn stain like blueberry or a baked-in stain, you might have to apply the stain remover a couple of times or work at it by hand. it should start to fade and fade until you get it out.
Ingredients:  coconut oil, vegetable soya oil, canola oil, litsea cubeba essential oil, lemon essential oil, lye, water, and borax.
About Buncha Farmers:
Buncha Farmers is a group of (you guessed it) farmers and artisans whose goal is to make great products that do what they are supposed to do, using quality materials at an affordable price. They want to get rid of toxins in our everyday life, so they ensure all their products are safe and work great, no matter what household task you use them for.