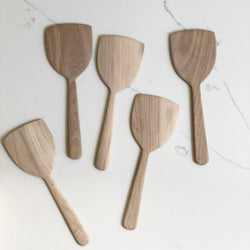 The rustic Walnut Wood Spatula conveys a warm charm in any kitchen. Completely carved by hand, rich grain pattern is pleasingly evident in the smooth wood. A natural addition to your kitchen and tableware, and an ideal gift for foodies, this is an item that gets better with age. Easily paired to use as serving paddles.
Ethically handmade in small batches by a family of artisans living in the rural villages around Marrakech. Supporting these makers ensures that their skills continue to flourish for future generations.
The untreated wood can be left natural, or you may use vegetable oil on a cloth and gently rub into the wood to give it a light sheen and extra protection. 
Measures approximately 23 cm long (9")
Hand Wash Only
**This product is handmade and as a result, each will be unique. For us, this is the appeal of handmade wares, and we hope that you feel the same. Slight differences/imperfections in shape, size, and colour are to be expected, and celebrated.