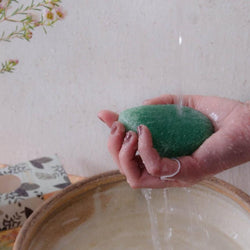 Your beauty routine has never been this easy. Our Konjac sponge cleans and exfoliates your skin in one step - no soap required! These powerhouses are 100% natural, biodegradable, and vegan. They are made from vegetable fibres, and it's naturally irregular texture makes it a gentle exfoliator.

What you can expect:
deep cleansing
refined pores
radiant and rejuvenated skin
balanced skin pH
free from colouring agents or additives
Infused with green tea, this sponge is full of detoxifying antioxidants, and is tailor made to remove impurities. With its antibacterial properties, it is perfect for normal and combination skin. 

To use: Before use, rinse the sponge with warm water. Gently massage the face with circular motions. Allow the sponge to dry before storage. Always allow the sponge to fully absorb water before use. Lasts 2-3 months, or around 100 uses. Toss in the compost once you're ready to replace.