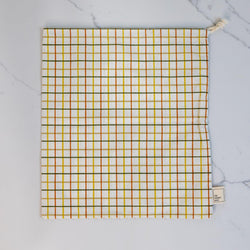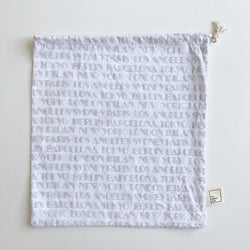 These gorgeous lightweight cotton bags are perfect for all your bulk and produce needs! Handcrafted from upcycled cotton fabric, these bags contribute to a circular economy by using material that would otherwise be waste, and turning it into durable items that will last years. The 'Not Plastic' themed bags are made from 100% organic cotton. Comes complete with a drawstring closure.
SAVE: Use code REUSE when you buy 3 or more, and receive $1 off each bag *cannot be used with other discount codes*
Approximately 12x 10" (Holds about 6 apples or a couple of bunches of carrots)

As all items are handmade there may be slight variations to what is shown in the picture.
About The Market Bags:
The Market Bags was created to take a step in the right direction for a better (and waste free) planet. Each reusable produce bag is handcrafted from upcycled cotton or sustainable materials in Kelowna, BC, Canada. The Market Bags passion doesn't end with the planet - they love to give back! Partial proceeds from the sale of each bag is donated to local charities that work directly with families in need.