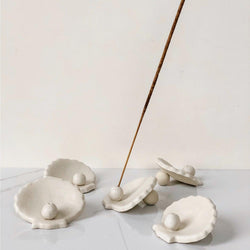 This adorable ceramic incense holder is designed to spark joy any time you use it for aromatherapy, meditation, or ceremony. We've also got you covered with sustainably crafted incense.
Measures ~ 2.75" wide x 1" high
Handmade on Vancouver Island by LTV
**This product is handmade and as a result, each will be unique. For us, this is the appeal of handmade wares, and we hope that you feel the same. Slight differences/imperfections in shape, size, and colour are to be expected, and celebrated.