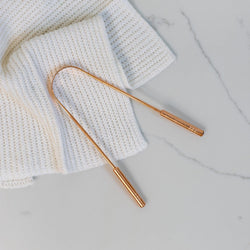 A tongue cleaner with a focus on quality: 100% stainless steel, with rounded and smoothed edges to prevent cuts, and thick durable handles for a comfortable grip. 
Metal tongue scrapers have been used around the world for centuries. This practice has traditionally been used to:
Clear toxins & bacteria from the tongue to prevent bad breath
Enhance the sense of taste
Promote overall oral and digestive health
Gently stimulate internal organs 
Measures approx. 5.5" tall.
Made in India