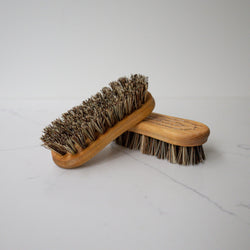 Beautiful handmade vegetable brush, suitable for scrubbing potatoes & root vegetables. Handle is oiled treated birch with union mixture bristles. Union mixture is strong and water resistant.
If washed, let the brush dry standing on the bristles so the water is transported away from the wood, which is more sensitive to moisture.
Measures approx 5"L x 1.75"W x 1.3"H
Handcrafted in Sweden by visually impaired artisans.