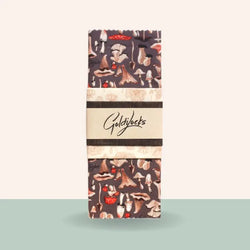 If you're looking for a natural alternative to plastic wrap your search ends here!
Reusable beeswax food wrap replaces cling wrap and keeps your food fresh far longer because it allows it breath - much like a natural skin or rind on your veggies and fruit. 
The pressure of your hands is enough to cause the wrap to stick. Easily wrap cheese, fruits, veggies, herbs, sandwiches, snacks, cover leftovers, + more.
Variety pack includes:
1 large 11x14" wrap
1 medium 10x10" wrap
1 small 6x9" wrap
Care: Wash in cool water, with a gentle soap, if needed. Great for use in the fridge, not freezer. Not recommended for storing meats. Each wrap will last 1 year or longer with proper care
100% cotton, Canadian beeswax, tree resin, jojoba oil.
Made in Victoria, BC.