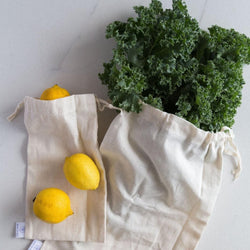 This package includes everything you need to get you started with eco friendly grocery shopping:

Bread bag
1 small bulk bag 
2 large bulk bags
Bulk bags are perfect for fruits, vegetables, and bulk items. You can also use these bags to make your own nut based milk, or to transport snacks.
The bread bag will keep your bread fresh for 2-3 days. You can even freeze your bread directly in the bag for longer storage!
Made in Canada