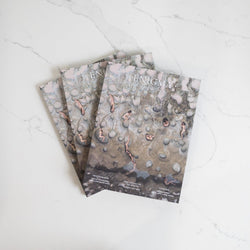 Enigma is an annual publication of carefully curated photography, art, science, sustainable architecture, culture, interviews, poetry, and articles from intentional artists around the world. 
Founded on Vancouver Island in 2020 by Kelly Lovett, it's intention is to pose inspiration, expansion, unity, hope, and emotion, while highlighting the polarities of our most primeval selves, and with this, primal identity crisis of being human in today's world. 
Volume One - The Collision of Twos - explores the harmonization of nature & nurture both in our external landscapes and the infinite meandering rivers and horizons of our inner ones.
Volume Two - Likewise - explores the similarities and parallels between the human form with that of natures. Our damaging social constructs and the state of the earth are expressed in a visually impactful way throughout this beautiful publication.
8.5" x 11" cover to cover - offering something for everyone.