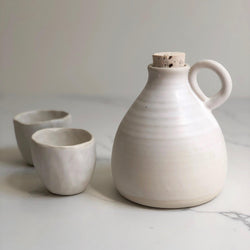 Wheel thrown petit jug, in a custom soft white matte glaze. House potions in homey earthenware. Premium cork topper included.
Measures approx. 5" Tall x 5" Wide
Holds roughly 625 ml; 20 oz.
Handmade in small batches in Ucluelet, B.C.
This product is handmade and as a result, each will be unique. For us, this is the appeal of handmade wares, and we hope that you feel the same. Slight differences/imperfections in shape, size, and colour are to be expected, and celebrated.
This item is not available to ship to P.O. addresses. 
See our Shipping Policy for more details.