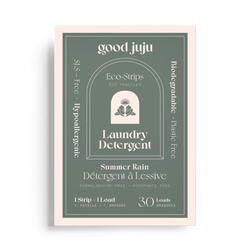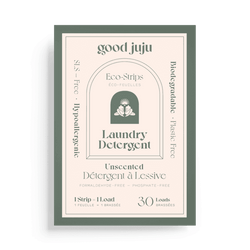 These laundry strips pack super-concentrated, eco-friendly cleaning power into small, pre-measured strips of detergent that you can just toss in the wash. Containing no water and requiring no plastic bottle - each 30 strip recyclable envelope prevents one 1-litre plastic jug from entering the landfill.
Available in two options - summer rain or unscented
Pre-portioned strips contain exactly the detergent needed for one load of laundry
Dissolves completely in hot or cold water
Works in all washing machines, including HE
Safe for hand-washing, and for use in septic systems
How to use - Separate one pre-measured laundry strip and place it in your washing machine. If using a top-load washer, place strip directly in drum. For a front-loading washer, tear the strip in half and add to the drum.

For larger or more heavily soiled loads, increase the amount of detergent by simply adding a second or third strip. You may also tear a strip into smaller portions for small loads, or when hand-washing.