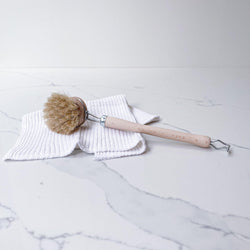 This beautiful wooden dish brush by Iris Hantverk seamlessly combines tough cleaning action with beautiful, eco-conscious design. Bristles made from horsehair make an excellent tool for scrubbing various surfaces, dishes, and cleaning vegetables.
Compost the wooden/bristled parts when your scrubber is ready to retire, and recycle metal parts
The head is detachable, with replacements sold separately. If your handle is still in good condition, save some money and use less resources by simply swapping the bristles with our dish brush replacement head - found here.
Metal loop at the end of the handle allows for hanging 
Care: Let air dry and store in a clean, dry place between uses. 
Handcrafted in Sweden by visually impaired artisans.