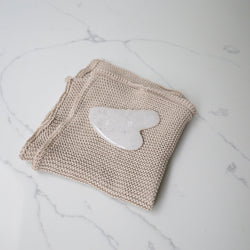 Pamper and energize your skin with Gua Sha facial therapy – an ancient rejuvenation method based on Traditional Chinese Medicine.
Gua Sha therapy helps to relieve tension and stimulate circulation, drain puffiness and toxins, increase collagen production as well as promote radiance, smoother skin, firmness and overall enhanced complexion.
Best method - apply a face oil first, then use gentle pressure and apply even strokes in an upward motion against your skin, preferably in the direction of lymphatic flow. For use on your face, neck and décolletage.