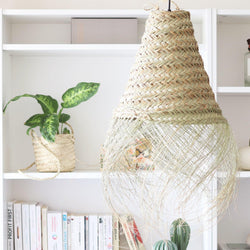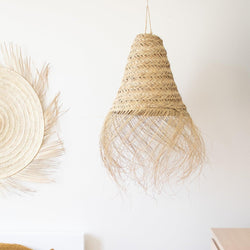 The perfect statement piece for any room! These natural pendant lights are beautifully handwoven from sustainable halfa grass. Straw tie woven in to fasten with a pendant light cord (not included). Available in two sizes.

Small diameter at base 11" x 12" high
Medium diameter base 13" x 13" high
Ethically handmade in Morocco
Please note that due to its size, this item it not eligible for free shipping
*Discounted shades are woven with more green coloured halfa grass than what is pictured.
**This product is handmade and as a result, each will be unique. For us, this is the appeal of handmade wares, and we hope that you feel the same. Slight differences/imperfections in shape, size, and colour are to be expected, and celebrated.