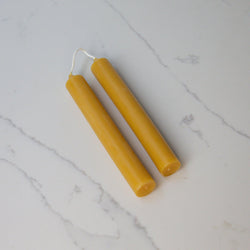 Simple and elegant, these 100% natural beeswax taper candles are a dinner table staple, and a wonderful addition to any romantic occasion. Long-lasting, with a warm amber glow and a soft honey aroma. 12" available as individuals. 6" set of two.
Created with simple, environmentally-friendly ingredients: pure Canadian beeswax + cotton wicks. Free from carcinogens, solvents, lead, zinc, and toxins. 
measures 12" h x 7/8" d with burn time 12-13 hours 
measures 6" h x 3/4" d with burn time 5-6 hours
Handmade in BC, Canada
*tip: tapers should be burned in a proper candle holder, standing securely. To easily clean your candle holder from excess beeswax, simply place in the freezer for a few hours, then chip away.
**Our candle makers are committed to sourcing wax from ethical beekeepers. They support beekeepers who love their bees and want to preserve them. In addition, our makers donate financially to honey bee research. By supporting beekeeping, awareness is raised to the plight of all pollinator species. Collecting beeswax is part of honey harvest and a natural by-product of pollination.